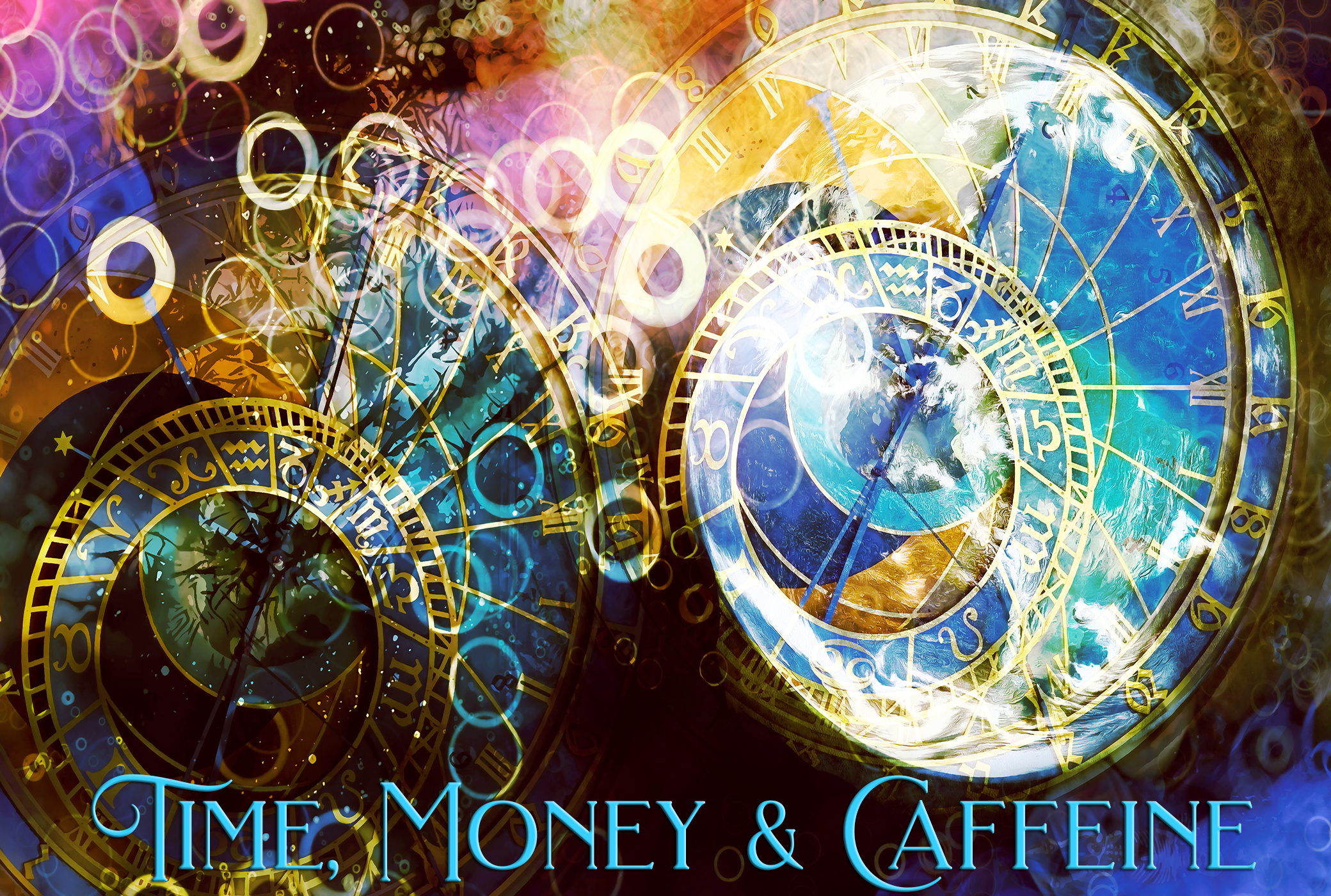 16 Nov

TIME, MONEY & CAFFEINE

"To be trusted is a greater compliment than being loved." ~ George MacDonald

The human world hums along on three key ingredients: time, money, and caffeine.  We need time to make the money, and we need the caffeine to have the energy and focus to do the job to make the money. And, of course, we need money to buy all the stuff. Time, money, caffeine, rinse, repeat. Over and over again, it is the perpetual rat race that we all begrudgingly sign up for because we feel it is something that we need to do in order to have everything we think we want. However, when the intellectuals and contemplative thinkers grapple about what's the most important thing in life – time or money – they seem to be missing the real point.  What does time and/or money really give us? Time is the most important thing depending on what you do with it. Money is the most important thing depending on what you do with it. So, when faced with this question, it is always diluted down to these two concepts?

As it turns out, what you do with your time and your money really comes down to one thing – trust. If you want to live your best life, then learning to trust yourself  and others can build a sense of connection, love and community. When you have trust, then time and money actually have someplace to thrive.

Social Scientist, author, professor and Ted Talk presenter Brené Brown says, "Trust is choosing to make something important to you, vulnerable to the actions of someone else."  How much anxiety and hand ringing comes to mind when you hear you have to put something you care for in the hands of someone else? How difficult is it to give up control of something you hold most dear? The heart is probably the thing we protect the most from others. How does it feel to know that you have to put it back in the hands of another after being hurt by one person or perhaps many people?  Letting down our guard, showing vulnerability and trusting again can be a daunting task. However, if we want to cultivate connection, love and a sense of safety again, then learning to trust is essential.

So, how do we build trust? Since we cannot control the actions of others, we must then focus on ourselves. We can develop our own sense of self-trust.

•Developing self-trust means you take accountability for your actions to yourself or to others. If you make a mistake, then you ask for forgiveness or make reparations – even if you have to make it up to yourself.

•Developing self-trust means you do what you say you are going to do and if you can't do it, you find a way to make it up.  Keep your word and don't let yourself or others down.

•Developing self-trust means you establish and maintain healthy boundaries for yourself and respect the boundaries of others. Know what's appropriate and be considerate.

•Developing self-trust means being kind, respectful, forgiving and loving to yourself. Self-talk is paramount in building self-trust.  Don't treat yourself like you don't matter. You need to be the most important one to YOU, as you cannot depend on anyone else to stand up for you or put your needs first.

•Developing self-trust means having a plan for how to self-care after someone else has hurt you or has broken your trust. If/when someone does break your trust, then knowing how to process it and heal it are going to help you to bounce back faster. Learn how to stand up for yourself and confront the one who has hurt you, so that you can resolve the issue.  If that is not possible, make a plan for how to grieve and heal yourself from the betrayal. Having a plan in place will make trusting others a little easier to do (although no less scary) as you will be prepared to handle the fallout of a broken trust bond.

As you learn to reach out and open yourself up to others, it will become clear who you can trust and who you cannot. Those you can trust will do so by earning it through time and consistency. For instance, do they show up when they say they are going to show up or do what they say they are going to do? Do they hold your confidences? Do they treat you in a respectful manner? Do they show support when you indicate that you need it? Do they have your back? The ones that are worthy of your trust will become apparent and the others will fade away. You may get a few people that you thought you could trust at first but then something happens and trust is broken between you both. That is when you should evaluate if the trust can be rebuilt or if the relationship needs to end so that you can both move on.

Without trust in our lives, then the empty holes inside of us cannot be filled. Trust builds connection and purpose. It makes us feel that we matter and that we are important to ourselves and those around us. What is the point of having lots of time and money if there is no emotional or spiritual fulfillment in which to spend those things? When you have used your time to cultivate trust between yourself and others it brings more meaning to the time that you have. Time isn't just used to churn out eight hours of work to pay the bills. It's an opportunity to build trust with your co-workers, clients, vendors, etc. – creating a network of people that you trust and support and that trust and support you. Your work takes on meaning if you are doing it to support your family (with whom you share your strongest trust bonds) and who in turn loves and respects what you are doing for them. When you have free time it can be spent in the company of those you have your strongest trust bonds with or to build new ones with new people.

Money allows you to support and take care of the yourself, people and causes that you cherish.  Trusting in what you are working for and want to financially support adds purpose and builds a sense of pride that you can give back. Your money only has real value when you spend it on things that are meaningful to you.

Without trust and the fulfillment it provides, then the age-old question of time vs. money becomes irrelevant.  The question shouldn't be what's more important, time or money. The question should be, whom and what do you trust and whom and what do you value? Time and money will fall in line depending on the answers to those questions.